Choose Your Own Wellness Journey
Health and wellness detox programs, full health transformations, private and group nutrition, weight loss accountability coaching, and more
Holistic Nutrition & Wellness Services

12 Weeks to Reconnect & Align with your Body Program. Lose Weight and feel confident in your skin again!
If you are currently looking for more of a holistic approach calm your mind, nourish your body, and heal your spirit through a MEGA targeted holistic routine I can get you started right away, remotely (like from your bed!).
If you're ready to step into a more balanced version of yourself, but need the gentle accountability from a coach…
If you're ready to experience self care & self love, to shift old patterns and bring in some new holistic tools…
If you're ready to prove to yourself that you are worth it throughout your health journey…
12 Week Reconnect & Align with your Body Program includes:
Customized 12 week Alignment Blueprint
Natural healing modality practices (affirmations, tapping, energy work)
Sleep Hacks
Daily Self Care checklist
Mindfulness meditations and journal prompt
54-page Healthy Life Detox Manual
Easy and delicious recipes and nutritious daily meal plans
Meal Prepping Tips and Tricks 
Caffeine Withdrawal Hacks
Handy, printable grocery list
12 fourty- five minute, Weekly Coaching Calls
The first few minutes of each call will be focused on wins and challenges from your week to maximize your results in the program, and the remainder of the call will be focused on a module. 
Weekly Text Message Support
Since we are always on our phones, I offer direct communication via text message. Often, as the week goes on, certain questions will pop up. The beauty of a virtual program is that you can text me when the question arises and I will be sure to get back to you with a more definite answer. Most of my clients text message me photos of what they are buying at the grocery store to make sure that it is "Nutritionist approved".
2 Weeks of Meal Plans with Delicious Recipes
You will have access to all of my nutritious recipes where you can print out the ingredient list and instructions of how to make these healthy delicacies at your fingertips.
"I'm happy that I met my goals with the program which were to become more mindful about what I put in my body and to manage my sugar addiction. I was worried that I wouldn't be able to stick it out, given the number of major food categories I had to eliminate from my diet, but I surprised myself.
The 14-day period was manageable and went by quickly – after all, it isn't a lifetime, just 14 days to try something healthy for my body.
I liked how the first two days focused on preparing both my pantry and my mindset. Once on the detox, after the second and third day, it just became habit to stick with the food groups I was allowed and steer clear of those I wasn't. It was much easier than counting calories or points."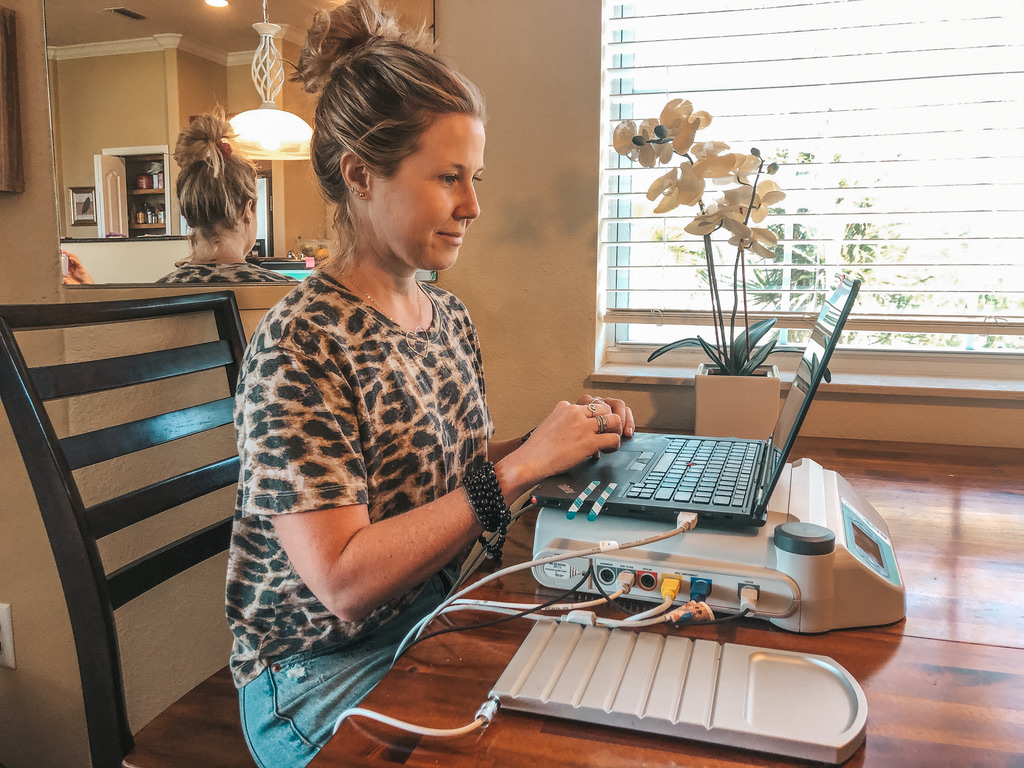 Join Andrea's Magical Machine Scan Club!
Receive 4 group scans per month (one per week), private Facebook group, 7-minute guided meditation to maximize the benefits and VIP pricing on private scans.
"Thanks to your 14-day detox program and your coaching, I feel I am ready to face the holiday season with some self control and some new habits of mindful eating. I have increased energy to get to projects that I've been putting off for some time. And though it wasn't a specific goal, I'm also a few pounds lighter – 8 to be exact, which was a surprising outcome for me. And yet I didn't feel like I was depriving myself too much – just making healthy choices."